Stockpile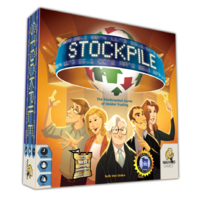 Stockpile is an economic, stock-market themed game that's all about insider trading!
You know about future stock price changes, but will you be able to act on that knowledge without drawing attention? Invest wisely, manipulate the financial markets, and misdirect your opponents to earn the most money in this fast-paced game for 2-5 players.
You can check out the Kickstarter news page for Stockpile here for any updates.
Update (October 20) - Stockpile has arrived in store and is now available for purchase!