Whale Riders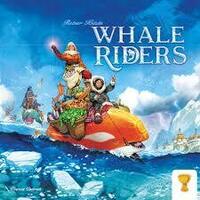 Whale Riders is a new design with a classic feel from famed game designer Reiner Knizia.

In 45 minutes of play, 2-6 players will race to the end of the Ice Coast and back, buying and selling as many resources as possible, to make the money needed to acquire the richest prizes. Will you skip opportunities to gain the greatest treasures, or will you make your money slowly along the way?
Each player has two actions per turn, but a lot they will want to accomplish. Sail? Buy? Sell? Draw more order cards? All the while, your opponents might be sailing past and beating you to what's on offer down the coast! Once all the precious pearls have been purchased, the game will end and the player with the most pearls will win!
5 copies of Whale Riders are available for preorder.
You can check out the Kickstarter news page for Whale Riders here.