Vikingar: The Conquest of Worlds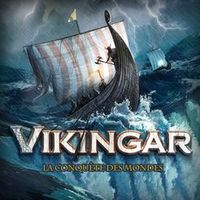 Vikings, terrors of the northern seas, you have but one objective: leave the mortal world as valiant heroes. Face the adventures required by the Ases by exploring the land of men and gloriously cross the gates of Valhalla.
To win, you must: Explore the world of mortals with your longboat. Complete the previously determined number of divine adventures. Discover one of the doors leading to the Ases' world, located at the world's end.
Update (October 13) - Vikingar has arrived in store and is now available for purchase!
You can check out the Kickstarter news page for Vikingar here for any updates.