Titan Dice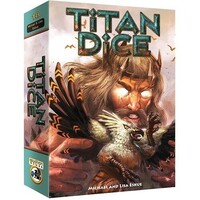 You are the Titans! As sons and daughters of Gaia you are giant deities of incredible strength and the supreme rulers of the legendary Golden Age. Once imprisoned by the Olympians, you have escaped and must now prepare for all out war.
Though unified in this goal, your sibling rivalry is stronger than ever and you strive to flex your power. To prove your dominance, you must gather mighty beasts to build your army.
But beware! The creatures are not captured easily and will resist your attempts. If you suffer too many wounds, you must retreat to recover. Meanwhile, your fellow Titans race to gather their own armies and will use various tactics to obstruct your progress.
Your quest is not easy, but you have the might and will to persevere. Search far and wide and you will gain command of unprecedented legions. Go forth, Titans, and may Gaia's blessing shine upon you!
You can check out the Kickstarter news page for Titan Dice here.
Update (22/03/2019) - Titan Dice has arrived in store and is now available for purchase!