Tinners' Trail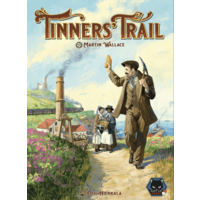 This new edition of Tinners' Trail is a reprint of the critically acclaimed 2008 game by Martin Wallace, which has been redeveloped and improved upon in partnership with Alley Cat Games.

Tinners' Trail is a thematic Euro game. Set in 19th century Cornwall. You play as a mining conglomerate at the height of the tin and copper mining industry. You must buy plots of land across Cornwall in auctions and survey them for tin and copper, always managing your 'work points' and money effectively. Once you have a mine in place, it's time to extract the ore, and make a profit(!) but the deeper your mine goes the more expensive the process gets. You'll have the opportunity to improve your mines with infrastructure like ports, train stations, and adits (drainage tunnels), but there's only so many improvements to go around. Can you outplay the competition and make the most money or will you be left without two shillings to rub together?
The expanded edition of Tinners' Trail comes with 2 brand new expansions, which add to Tinners' Trail with thematic new gameplay. These expansions require the base game to play and can by played alone or combined. They are also compatible with the Lord Wallace solo mode.
17 copies of Tinners' Trail are available for preorder.
You can check out the Kickstarter news page for Tinners' Trail here.