Shelfie Stacker - Kickstarter Deluxe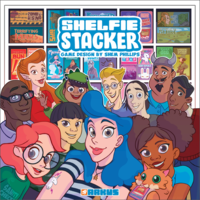 Grab'em and stack'em! Compete to collect and build the most illustrious board game collection!

The game is played over the course of 7 rounds. Each round, groups of 3 dice are randomly rolled and placed into piles. These dice represent groups of board games.
From their hand of 8 character cards, players must select 1 card to play facedown. These cards will not only determine turn order, but also provide a one-time ability to help players better stack their shelf.
There are specific rules around how dice can be placed into players' shelves, so careful planning is required. At the end of 7 rounds, the player with the best shelfie stack wins!
7 copies of Shelfie Stacker are available for preorder.
You can check out the Kickstarter news page for Shelfie Stacker here.