Rurik: Dawn of Kiev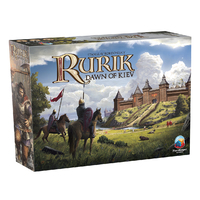 The land of Kievan Rus is in turmoil following the death of Vladimir the Great in 1015. The people need a capable ruler to inspire and lead them. Vladimir's children are embroiled in a fierce power struggle to rule as the next leader of Kievan Rus.

Rurik: Dawn of Kiev is a euro-style realm building game featuring area control, resource management, and a new mechanic - "auction programming."
You play as one of several potential successors to the throne. Establish your legacy by constructing buildings and performing great deeds or pursue your own agenda by ruling large areas of land and collecting tribute. Will you win over the hearts to become the next Grand Prince or Princess of Kiev?
What is Auction Programming?
In Rurik, players openly bid for actions with their advisors. Stronger advisors earn greater benefits at the cost of performing their action later than other players. Conversely, weaker advisors earn lesser benefits but perform their action quickly.
You can check out the Kickstarter news page for Rurik: Dawn of Kiev here.
Update (August 30, 2019) Rurik: Dawn of Kiev has arrived in store and is now available for purchase!