Oros: Collector's Edition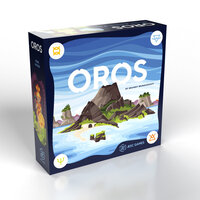 Erupt volcanoes, form mountains, and build sacred monuments in the pursuit of wisdom and knowledge.
In Oros, you are one of four Demigods endowed with power over the elements. Your objective is to bring the mysteries of the mountains to the people scattered across the islands of the earth. Creativity, ingenuity, and a skillful hand will be required to form immovable mountains then guide your Followers to those lofty peaks where they can build sacred sites of study and obtain for themselves the higher knowledge.
Your Followers will become more enlightened, more devoted, and more powerful with each sacred site they build. Their loyalty will embolden you, forging an elevated position among the Demigods sent to dwell on earth.
11 copies of Oros: Collector's Edition are available for preorder.
You can check out the Kickstarter page for Oros: Collector's Edition here.