MourneQuest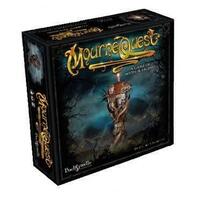 An Adventure Game filled with Myth & Folklore from the heart of the Emerald Isle.

MourneQuest is a cooperative board game for 1 to 4 players.
Average playing time 60-90 minutes.
Players assume the roles of the book's heroes and must journey in the Mourne Mountains to work together to defeat the evil Shimnavore before it is too late. On their quest they'll encounter many enemies, including infuriating Bogbeans and terrifying Nightmares like the Banshee, the Changeling and the Dullahan. To triumph, heroes must gather charms, equipment and magical relics, to increase their powers and use their skills and combat abilities effectively.
5 copies of this are available for preorder.
You can check out the Kickstarter news page for MourneQuest here.