Lawyer Up: Witch Trial Expansion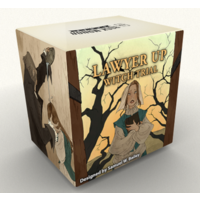 Between February 1692 and May 1693 more than two hundred people were accused of being witches in colonial Massachusetts. This case takes a look at this infamous time in America's history, where mass hysteria is taking hold of the judicial system.

This is an expansion for Lawyer Up, an asymmetrical card game for 2 players where one player is the noble prosecution and the other the steadfast defense. Each expansion offers up new mechanics and win conditions - while staying true to the drafting and easy to learn card play of the core game.
The Witch trial features over 80 unique illustrations by Abigail Larson whose art beautifully captures the time period. The Witch Trial does away with the jury and is instead lead by an angry mob who is ready to hang anybody they believe is a witch. The goal of the Prosecution is to hang 3 witnesses as witches before they run out of cards. The defense is scrambling to keep the mob under control and prevent a full blown witch hunt!
2 copies of Lawyer Up: Witch Trial Expansion are available for preorder.
You can check out the Kickstarter news page for Lawyer Up here.