Honey Buzz - Kickstarter Deluxe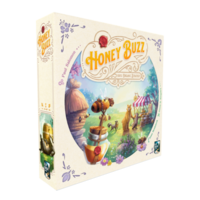 The Bears are hungry! Build your hive, make some honey, and sell it at the market in this sweet little strategy game.

Honey Buzz is a worker bee placement game where you'll expand your own beehive, forage for nectar and pollen, make different varieties of honey, and sell your honey at the bear market. But there's only so much nectar to go around, and finding the right combinations oto fulfill the woodland creatures' wants - as well as the queen's orders - will keep you buzzing!
You can check out the Kickstarter news page for Honey Buzz here.
10 copies of Honey Buzz are available for preorder.