Greenland 3rd Edition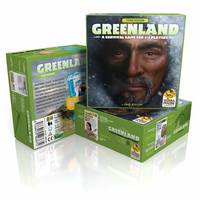 Imagine you are a tribe on an island slowly freezing over. The supply ships stop coming, and the only means to survival is intermarriage to discover the survival secrets of the other cultures: Tunit, Vikings, Inuit, Sea Sami.

In Greenland you get to play through a momentous period of human history. You play as one of the peoples who attempted to colonize Greenland during the Middle Ages. This version of Greenland also includes the little-known Sea Sami expansion pack.
Compared with the 2nd edition, introduces a 4th player (Sea Sami), custom meeples for each tribe, new domestic animals and daughters, upgraded art, new play aids. Contains 63 cards, 4 elder boards, 72 custom meeples, 4 large meeples, 52 disks for energy, ivory, and iron, 10 dice.
Designed by Phil Eklund, the designer of High Frontier and Pax Porfiriana. Art by Karim Chakroun
You can check out the Kickstarter news page for Greenland 3rd Edition here.
Update (30/11/2018) - Greenland 3rd Edition has arrived in store and is now available for purchase!