Gloom Grief Case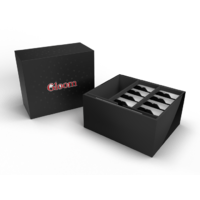 Gloom fans have been asking for it for years, and it's finally here … a box big enough for all your Gloom games!
The luxurious Grief Case is large enough to hold every Gloom game produced thus far — that's roughly 1500 Gloom cards — plus all your rules and extras, and your darkest secrets. (It's even got room to accommodate another four full Gloom games or eight expansions, for when you add future Gloom games to your collection.)
This case is extremely sturdy! 4mm thick laminated chipboard will make this the strongest game box in your collection, sure to hold up to a lifetime of use. Or, of course, 'til Untimely Death.
Soft Touch finish adds a luxurious velvety-soft texture for instant tactile appeal and resistance to fingerprint marks. It also makes sliding the lid off the box both quick and satisfying.
Spot gloss and red metallic foil add texture and shine to highlight design elements.
This deluxe box comes with its own thick acrylic dividers, so you can sort and cross-reference your games and cards in whatever way makes the most sense to you.
And more! Follow our backer updates for behind-the-scenes looks while we finalize production.
6 copies of Gloom Grief Case are available for preorder.
You can check out the Kickstarter news page for Gloom Grief Case here.