Fire Tower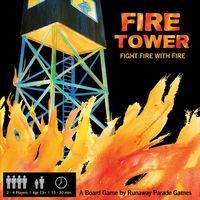 Smoke rises on the horizon. A fire rages somewhere in the heart of the forest. From the height of a fire tower, you command the efforts to contain the inferno, coordinating air drops of water, fire engines, and the construction of fire breaks.
Each turn the wind increases the strength of the burn, and the fire grows, bypassing your defenses as it nears your tower. Compete with rival fire departments who will stop at nothing to protect their towers. Can you survive the inferno?
The game is easy to learn, has minimal set-up time, and is intuitive to play, so that you can start playing within minutes of opening the box. That said, this is not a simple game to master: multiple variables allow for a wide range of strategies, and no two games look alike.
Prepare for a unique experience, a relentless battle for survival packed with shocking reversals and exhilarating victories. Most games about fire have some cooperative aspect, a team effort to beat back the flames. Fire Tower is a purely competitive game, where players have two objectives: defend themselves, and desperately try to spread the flames towards their opponents. Fire Tower is a fast-paced, hand management and grid movement game for 2 - 4 players, ages 12+ that takes 15+ minutes. Each player mans a fire tower and uses action cards and spatial planning to protect their fire tower. Every turn the fire spreads in the direction of the wind, and players must skillfully and efficiently manage their cards to avoid going down in flames. Players can harness the power of the wind to push the inferno towards their opponents, clear tracts of land to create a fortress around their towers, hinder the plans of their opponents with torrents of water, and unleash an arsenal of fire cards upon their foes. The choices are numerous; it's up you to make the right one.
You can check out the Kickstarter news page for Fire Tower here.
Update (31/01/2019) - Fire Tower has arrived in store and is now available for purchase!