Feudum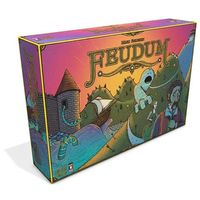 Blimey! You and your blokes have been banished and stripped of everything but a few shillings and table scraps. Undaunted, you journey to a strange land to reinvent yourself and reclaim your honor! Will you farm the earth, fight as knights or finagle your own feudums? Your fate is in your hands. (And for better or worse, the hands of a steely-eyed monarch named Queen Anne).
Hailed as "articulate and inventive," Feudum is a deeply nuanced game for 2-5 players that rewards resource management and skillful planning. Six uniquely powered characters and multiple paths to victory make for an ever-changing, open-world experience each time you play!
You can check out the Kickstarter news page for Feudum here for any updates.
Update (April 27, 2018) - Feudum has arrived in store and is now available for purchase!