Feudum: Windmills & Catapults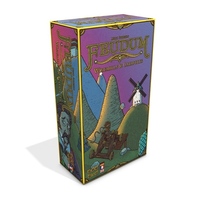 Bull spit and horse feathers! More strange folk have migrated to your neck of the woods, leaving you with little elbow room. To make matters worse, windmills and catapults are popping up like dandelions. That takes the biscuit! You're not about to lick someone's boots without a fight.
Feudum: Windmills & Catapults is a riveting and rambunctious region tile expansion. The game adds new region tiles, royal writs, a wooden windmill, and the ability to play with a 6th, pewter-colored player!
The expansion includes:
3 wooden pawns for a 6th player
4 player discs/reeves for a 6th player
20 influence markers for a 6th player
11 action cards for a 6th player
8 region/landscape tiles depicting the windmill and the catapult
2 royal writ cards
1 working windmill
1 rulebook
You can check out the Kickstarter news page for Feudum here for any updates.
Update (April 27, 2018) - Feudum: Windmills & Catapults has arrived in store and is now available for purchase!