Egizia: Shifting Sands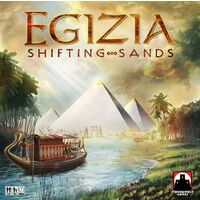 Egizia: Shifting Sands is a streamlined, modern update of Egizia that both longtime fans and brand new players can easily pick up and enjoy.

The air wavers in the afternoon heat as the sun beats down on the smooth waters of the Nile. The Pharaoh has sent down an edict to you, his best builders. He requires monuments, not just one, but five glorious monuments in his name so that he will be remembered throughout all of time. The builder whose work most pleases him shall be given not only riches, but fame and honor beyond all imagining. So gather your resources, organize your crews, and adorn the banks of the Nile with marble and gold.
Players travel down the Nile, placing boats as they go, to collect resources that will help them construct some of Egypt's most famous monuments. Shifting Sands comes with all new monuments to build, new cards to collect, and a constantly shifting river.
You can check out the Kickstarter news page for Egizia: Shifting Sands here.
Update (19/2/2020) - Egizia: Shifting Sands has arrived in store and is now available for purchase!