Deadwood 1876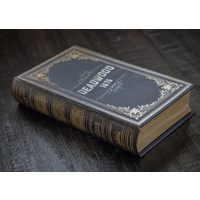 There's gold in the Black Hills of South Dakota, and you've come to find (or steal) your share.

You're staying at one of the three major establishments in Deadwood where you and your associates are working together to steal some of the gold-filled safes floating around town. But you suspect that the "friends" you're working with are secretly plotting to keep all the gold for themselves. Will you be ready to turn on them before they shoot you in the back?
Deadwood 1876 is a social deduction game where you'll work with teammates to find and collect gold. But in the end, the team with the most gold will have to fight each other to the death to determine the winner! Will you spend your turns helping your team find gold, or preparing to defeat your own teammates in the Final Showdown?
For 2-9 Players. 20-40 minutes. Ages 13+.
Components:
1 Magnetic book box
1 Faux leather pouch
1 Rulebook (includes character biographies and Deadwood history)
3 Wood carved platforms
9 Wood star pawns
10 Wood engraved dice
79 cards (9 Characters, 20 Safes, 50 Deadwood)
You can check out the Kickstarter news page for Deadwood 1876 here for any updates.
Update (09/11/2018) - Deadwood 1876 has arrived in store and is now available for purchase!