Creature Comforts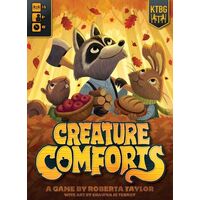 Springtime is upon us, but here in Maple Valley it's never too early to start preparing for winter! Creature Comforts is a delightfully cozy game where you pay as a family of forest creatures.
Head out to the countryside to gather and harvest, use your goods to craft all sorts of wonderful comforts, and collectstories to fill your den with happiness.
There's plenty of room for everyone in all of the spots in and around the village. The tricky part is that every location needs certain dice for you to have a successful visit... and you only know some of your dice before you send your workers out on errands!
Will you prepare enough tasty treats, warm garments, fun activies, and captiving stories to make your home the coziest in time for winter?
14 copies of Creature Comforts are available for preorder.
You can check out the Kickstarter updates page for Creature Comforts here.