Coloma - Deluxe Version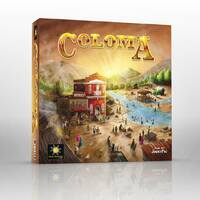 Howdy pardner! The name's Buster. Stick with me and I'll take you from an unsalted greenhorn to a sourdough miner, lickety-split!

The 1849 Gold Rush began in Coloma, California, where gold was discovered in the waters of the American River. As the exciting news spread, people arrived from far and wide, making Coloma one of the fastest growing boomtowns in the West. Claims were staked, homes were built, and businesses were founded.
In the game of Coloma, you are a pioneer who has recently traveled Out West to settle and build an enterprise. You may expand your property by building trading posts, hotels, saloons, stables, and outposts, in addition to mapping the Western frontier, surveying rivers, constructing bridges, and, of course, prospecting for gold. Then, to protect what is yours, you and the other town vigilantes will have to get out your guns and fend off the outlaws looming on the horizon!
You can check out the Kickstarter news page for Coloma - Deluxe Version here.
Update (1/10/2019) - Coloma - Deluxe Version has arrived in store and is now available for purchase!