Can't Stop Express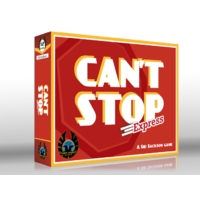 Can't Stop Express is a great risk vs. reward type of game, spiced with some luck and some calculated decision making. Fantastic for travel, or as a warm up game to get the brain going for game night. Can't Stop Express can be played with more then the suggested players (as long as everyone can see the dice), and is a great solitaire game! The game play is guaranteed to be fun since the all-star designer Sid Sackson designed Can't Stop Express, a game you will keep coming back to for years to come.
Can't Stop Express plays similarly to the original Can't Stop where you push your luck with the dice, and make tough decisions while weighing the risks to win the game!
You can check out the Kickstarter news page for Can't Stop Express here for any updates.
Update (February 2, 2018) - Can't Stop Express has arrived in store and is now available for purchase!